Borenstein Caterers is a kosher catering company that provides fresh and frozen meals to airlines, cruise lines, rail liners, other institutions, and the retail market. Their unique approach focuses on providing tailor-made meals and offering the highest standards in food safety and quality from farm to plate. They serve large scale demand, international clients, and provide two lines of supervision: Glatt Kosher and Ultra-Orthodox Kosher meals. Borenstein Caterers is committed to empowering their staff, providing exceptional service, and delivering quality products that meet customer satisfaction.
Established in 1946, Borenstein Caterers started as a kosher airline food provider in New York. The company has evolved over the years and now offers fresh and frozen meals to various clients. The company is the leading Kosher In-Flight caterer in North America, operating a modern flight kitchen facility adjacent to John F. Kennedy International Airport in New York City. They produce over 15,000 meals a day during peak periods, making their products accessible in the air, on the sea, and on land throughout the United States.

Borenstein Caterers' approach to food production is centered around customer satisfaction, and they achieve this by providing top quality fresh ingredients, modern cooking style, and strict rabbinical and operational supervision. They aim to make kosher food accessible to all while strengthening human resources and understanding the needs of their customers.
The company's primary goal is to provide healthy, nutritious, and delicious meals to their customers. They offer tailor-made meals that cater to individual needs, dietary restrictions, and preferences. Their strict quality control measures ensure that only the best products are delivered to the customer. The company's executive team brings a combined cumulative international experience of more than two hundred years, guaranteeing exceptional service and products.
Borenstein Caterers values its employees and holds them in high regard. The company believes that human resources are their most important asset, and they focus on empowering their people by recognizing their contribution and providing them with a sense of purpose and personal accountability. This commitment has helped the company maintain a constant state of growth even in economic downturns.
The company's executive chef has a passion for food and mastering the art of cooking. Working with the product development team, he innovates and updates the menus regularly to create new and exciting items, keeping up with market trends. The company's operations and logistics are flexible and work with customers to create a delivery schedule that suits their needs.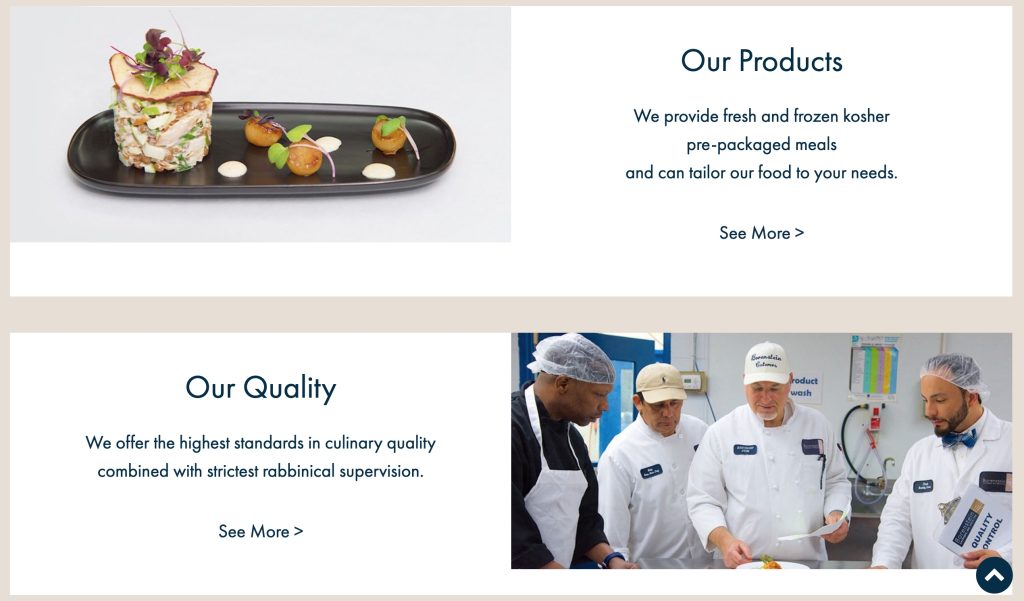 Borenstein Caterers offers Grab & Go packaged food items under the brand name "KOSHER4U." The sandwiches and salads are prepared, packaged, and delivered via their refrigerated trucks the same day, ensuring that the chain of custody is maintained.
In conclusion, Borenstein Caterers is a unique kosher catering company that provides fresh and frozen meals to various clients. Their customer-centric approach and focus on providing tailor-made meals have helped them become the leading Kosher In-Flight caterer in North America. The company's commitment to providing quality products and exceptional service, combined with their dedication to empowering their employees, have made them a preferred choice for many customers.